During the last three years, PT Titan Infra Energy, a coal mining, infrastructure and logistic company, has been preparing for the worst case scenario that can eventually happen in resources-based businesses, just like what is occurring now in coal sector. Titan recognizes that its future should not heavily rely on coal mining alone. Hence, Titan has transformed its business model from resources-based to logistics and infrastructure-based to help become a more resilient company.

"Since 2013, we've developed a more resilient new business model amid volatile commodity prices. We develop end-toend supply chain and not only focus on a particular value chain," Titan's Chief Executive Officer Kusnadi Sukarja said to CoalAsia recently.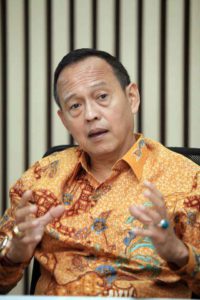 Titan has developed three main business entities engaged in energy resource, energy infrastructure and energy services. Since its establishment in 2004, Titan has shown strong growth by actively acquiring and developing new businesses. Not until in the last three years, the company focused on organic growth and internal development. "For now, we only focus on our current assets and try to develop and utilize it more optimally," Kusnadi said, when asked whether Titan has any plan to acquire new mining asset during the current low valuation. Titan's energy resources span mainly in Sumatra, particularly in Bengkulu, South Sumatra and Jambi.
One of Titan's assets is a 110-km coal hauling road in South Sumatra, owned by PT Servo Meda Sejahtera (SMS), which was acquired in early 2014. Titan owns two coal concessions in the province operated by subsidiaries PT Bara Anugrah Sejahtera and PT Banjarsari Pribumi.
Titan plans to unlock the unexploited coal resources in the province by providing reliable dedicated coal hauling road. "There are hundreds of unexploited coal mines along the hauling road," Titan's Director Tjhie Sugianto said. He added that South Sumatra has abundant coal resources but less exploited due to the lack of supporting infrastructure such as hauling road.
Titan is expected to finish the construction of the Servo hauling road by the end of 2016. Kusnadi mentioned that there are some sections of the hauling road and bridges that need to be reinforced. "We plan to transport approximately 2.5 million to 3 million tons of coal this year," he said.
Focus
SMS provides integrated coal logistic services among other 50 hectares intermediate stockpile, 110 kilometers with 14 meter width hauling road with total capacity up to 30 million tons per year. It also has 2×2,500 tons per hour barge loading conveyor with blending facility at the river port.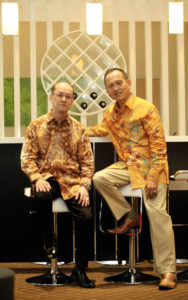 Infrastructure and logistic services have become the company's key business pillars. Those services cover mining contractor, hauling road, port management and tug-and-barge that increasingly provide greater added value through synergic linkage in all supply chains. The development of the Servo Project actually duplicates the success story of Titan's project in Bengkulu Province, according to Kusnadi. "We reflect the success of logistic development in Bengkulu, where we have seafront port facing the Indian Ocean," he said.
Titan Infra Energy and PT Firman Ketaun, one the leading coal producers in Bengkulu, created a joint venture firm called PT Titan Wijaya. Titan Wijaya has built and invested in mine infrastructures such as hauling road, seashore jetty and its facilities. Titan Wijaya purchases coal produced by Firman Ketaun and other adjacent coal mines. Meanwhile, PT Maritim Sumber Energy, a subsidiary of Titan Infra Energy, manages the seafront port in Bengkulu, which has 6.5 meter water draft and capable to handle up to 300-feet barge, 1,500 tons per hour barge loading conveyor and 240 tons per hour manual loading by trucks.
Competitive Advantage
Titan's transformation into logistic and infrastructure-based company aims to tap the business opportunities in domestic power generation industry. The end-to-end business model, according to Kusnadi, is Titan's competitive advantage that offers more efficient coal supply chain for coalfired power plants.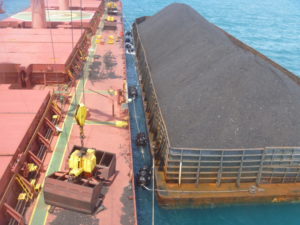 Titan provides coal for end users by utilizing Titan's entire supply chains from coal getting to shipment. "We prioritize supplying coal for coal-fired power plants in Sumatra and West Java regions," Kusnadi said, and suggested the regional preference means lower logistic and shipment costs. Tjhie Sugianto mentioned that Titan recently secured a 500,000-ton per annum coal supply contract for a 200 MW coal-fired power plant in North Sumatra.
"The contract is eligible for 2×5 years extension," he said.
To support the coal mining activities, Titan owns mining contractor unit, PT Manggala Usaha Manunggal, with services ranging from coal getting (extracting, cleaning, loading, and hauling), top soil removal, disposal dumping, to re-contouring. For river and sea logistics and transportation solutions, Titan has PT Nusantara Terminal Terpadu, a barging services company for mining industry which transports coal from loading ports to end users and transships coal to anchorage points to mother vessel. Nusantara Terminal Terpadu currently operates 19 tugs and 18 barges, one Self-Propelled Barge (SPB) and one Self-Propelled Dredging Vessel (SPDV).
Power Business
Titan has experience in supplying coal for PT PLN (Persero), a stateowned power utility, from its coal mining subsidiary PT Madani Citra Mandiri, which operates coal mines in Kutai Kertanegara Regency, East Kalimantan. It provides coal with calorific value 4,200 kcal/kg (gar) and has estimated 58 million tons of coal resources.
To take it more advanced, Titan also plans to get into power business by developing mine-mouth power plant in South Sumatra. The company owns two coal mining permit holders in the province namely PT Bara Anugrah Sejahtera (BAS) and PT Banjarsari Pribumi (BP).
BAS, with concession located in Muara Enim District, has ecofriendly medium rank coal with calorific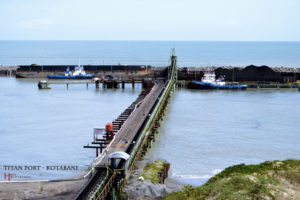 value 4,700 kcal/kg (gar) with low ash and sulfur contents. It contains 103 million tons of coal resources, quite enough for mine mouth power plant. Meanwhile, BP, a concession in Lahat District, has approximately 30 million tons of coal resources with calorific value 3,800 to 4,800 kcal/kg (gar).
"We had submitted the prefeasibility study to PLN. However, we still have ongoing negotiation regarding the power plant capacity," Tjhie Sugianto said. He said that the company will only carry on the plan if the power capacity is big enough to meet the required economic scale.