Indonesia and Finland agreed on Tuesday to enhance economic ties and forge cooperation in the renewable energy sector, an area some see as a feasible entry point for many Finnish businesses given Indonesia's need for renewable energy.
The commitment was made following a bilateral meeting between President Joko "Jokowi" Widodo and President Sauli Vainamo Niinisto of Finland, a country which, along with other Nordic countries, has gained a reputation for using renewable sources such as biomass and wind to meet its energy needs.
"In the economic sector, we welcome the visit of the Finnish president, along with 11 Finnish businesspeople to take advantage of the opportunities available in Indonesia," Jokowi told a joint press conference after the bilateral meeting at the State Palace, quoted from thejakartapost.com.
Niinisto, who is in Jakarta for a state visit from Nov. 2 to 4, brought along a delegation of 11 businesspeople, mostly focusing on energy, infrastructure, IT and port management.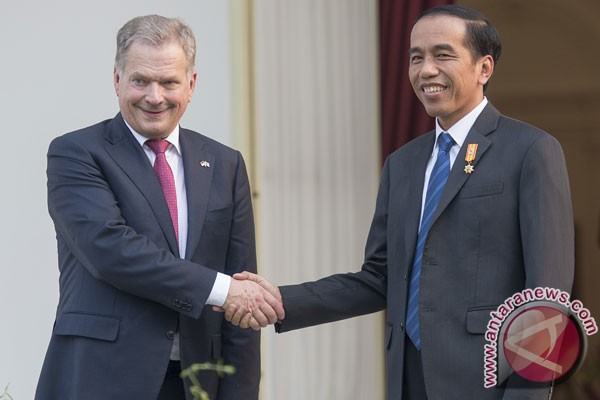 According to Jokowi, the two countries also agreed to set a US$1 billion target for two-way trade in 2016 and to seek ways to boost investment from last year's $3.6 million.
Total trade between the two countries amounted to $591 million in 2013, while Finnish exports to Indonesia rose 61 percent in 2014. There are currently 15 Finnish companies operating in Indonesia.
The two countries also signed on Tuesday a memorandum of understanding (MoU) to boost cooperation on sustainable, green and renewable energy, and energy efficiency, which also covers human-resource training, exchange of technology and information.
"In the energy sector, we also asked Finland to forge cooperation in developing renewable energy and energy efficiency," Jokowi added.
Jokowi also invited his counterpart to work together in the area of digital economy with Indonesia, which has been forecast to be the biggest digital market in Southeast Asia in 2020. Indonesia's digital market reached around US$12 billion in 2014.
In his speech, Niinisto said he was glad to bring what he deemed as a world-class business delegation, adding that economic cooperation was indeed the core of bilateral ties.
"I'm delighted that we have identified many mutually beneficial sectors so that we can complement each others' efforts and strength in the best practical ways," he added, saying that many lucrative discussions were ongoing between Indonesia and the delegation of the country he deemed as having "one of the most innovated societies in the world".
"Discussions have focused on energy and infrastructure, but I am certain there is great potential for deepening and strengthening our economic ties, also in areas such as education and forestry," Niinisto said.
Gulontam Situmorang, a senior advisor at Finpro, a Finnish promotion and investment agency, previously acknowledged that many Indonesians were unaware of the presence of Finnish companies owing to a lack of aggressive promotion, adding that Indonesia's need for renewable energy was viewed as a feasible entry point for many Finnish businesses.
The last Finnish president to visit Indonesia was former president Tarja Halonen in 2008 during the administration of Susilo Bambang Yudhoyono, while Yudhoyono made a state visit to Finland's capital of Helsinki in September 2006.
Niinisto later also deemed that ties between Finland and Indonesia "are much closer than our geographic distance might indicate", saying that their diplomatic relations established in 1954, four years after the European country recognized Indonesia's independence in 1950, were based on a long tradition.
According to Niinisto, the 2005 Helsinki peace agreement that ended a 30-year conflict between the Indonesian government and representatives of the Free Aceh Movement (GAM) was an important milestone in the bilateral ties, given Finland's contribution as a mediator in the peace talks.