Indonesian President Joko Widodo has urged Qatari businessmen to invest in his country and make use of investment opportunities available there.
Addressing Qatar-Indonesia Business and Investment Forum today, President Widodo said his country plans to set up several infrastructure projects, including building pipeline projects in some areas in Indonesia, establishing 24 ports and 15 airports, as well as projects related to the development of 2.650 Km long road networks, and a project for electric power generation with capacity of 35.000 megawatts, in addition to projects to develop transportation in 23 Indonesian cities.
The Indonesian President added that Qatar-Indonesia Business and Investment Forum represents an opportunity to share experiences between Indonesia and Qatar. President Widodo said all business opportunities in Indonesia promised a conducive business atmosphere and profit certainty.
The Indonesian President also explained how large-scale national projects, especially infrastructure projects, are being carried out in Indonesia and that they needed private investment. He said Indonesia is a strategic partner for Qatar, especially now that the country is seeking to boost economic growth and infrastructure development.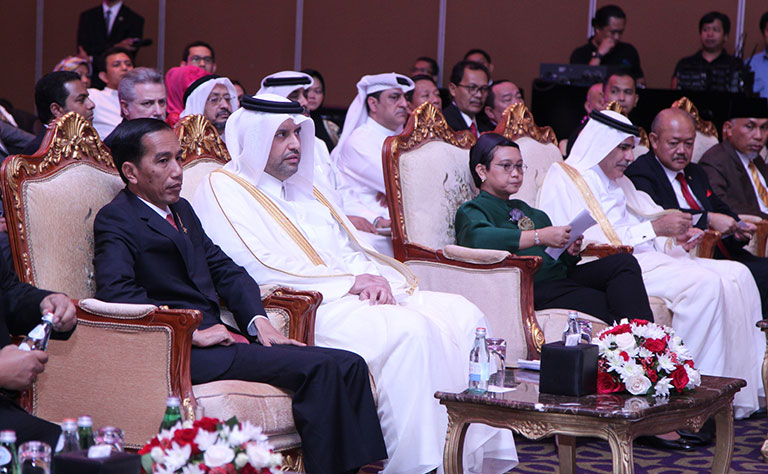 He pointed out that entering into joint ventures between the two parties serve bilateral interests, and contribute to the strengthening of economic, cultural and social ties. HE Minister of Economy and Commerce Sheikh Ahmad bin Jassim bin Mohamed Al-Thani underlined the availability of a number of paramount partnerships that can benefit both countries, especially for business sector in the two states.
His Excellency added that the Forum provided an opportunity to build a prosperous partnership between Qatar and Indonesia and will make the development of opportunities between them possible and help forge better relations.
He pointed out that trade between the two countries, which is estimated at QR 5.5 billion annually, has not yet reached the level the two parties seek to achieve.
HE Minister of Economy and Commerce Sheikh Ahmad bin Jassim bin Mohamed Al-Thani called on Qatari private sector to explore various areas of trade and economic partnerships that can be established with its Indonesian counterpart, pointing out that the economic growth of Indonesia, which is amounted to 4 percent annually, is considered among the fastest economies in the world, especially taking into account the current global economic conditions.
He noted that Qatar's economic growth ranges between 6 and 6.5 percent, saying: "I think there are significant opportunities for partnership for the business communities in Qatar and Indonesia in view of the good growth achieved by both countries" He pointed to the presence of Qatari companies in Indonesia and Indonesian companies operating in the Qatari market, in addition to 40000 Indonesian citizens staying in Qatar and contributing to the economic growth in the state.(QNA/Azw)