In the framework of the National K3 month PT. Bara Anugrah Sejahtera Panggung Enim Island Site inaugurated the Village Office Fence Keban Agung Lawang District, Muara Enim Regency. Tuesday, 21/02/2023.
The Head of Keban Agung Village, Mr. Fajrol Bahri, delivered a speech.
In his remarks, the Head of the Keban Agung Village, Mr. Fajril Bahri, said: "The Keban Agung Village Office fence certainly means nothing, if the people inside do not have high discipline and mentality, both in running the wheels of village administration, caring for, maintaining and improving services towards society.
Fajrol Bahri further said that after carrying out the Village Office fence construction process, for some time ago, Alhamdulillah the Keban Agung Village Office Fence building, Lawang Kidul District, has been completed and is ready for use. and Alhamdulillah also on this occasion, its use was inaugurated.
"We, as the Keban Agung Village Head representing all the people of Keban Agung Village, express our highest gratitude for the assistance from the Village Office Fence and free medical treatment from PT.BAS, we hope that PT.BAS will progress further and productivity will increase." Bahri ended his speech.
Meanwhile, Mrs. Indrisari representing PT.BAS Management delivered her remarks:
"In the context of the Lively National K3 Month in 2023 PT. Bara Anugrah Sejahtera this time is holding 2 activities, namely:
Free community treatment in 3 villages namely Pulau Panggung Village, Keban Agung Village and Darmo Village.
This activity is intended to establish a close and synergistic relationship between the business world and the community around PT.BAS mining operations. So that the symbiosis of mutualism (mutually beneficial relationship) can be created properly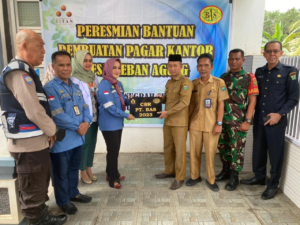 PT.BAS can do business in peace and the community around the company is healthy.
With prime health services, residents can try and do their activities well.
       2. Inauguration of the Keban Agung Village Office Fence.
The fence for the Keban Agung village office was completed last December 2022, but for some reason the inauguration could only be carried out today 02/21/2023
With the fencing of the Keban Agung village office, it is hoped that service to the community will be maximized, in addition to creating a safe and comfortable atmosphere. Indisari continued
"_ We can see today, that the village office fence was built with the 2022 PT.BAS Comdev budget, it looks beautiful, sturdy, strong and beautiful…" so that it can improve public services in the village of Keban Agung.._" said Mrs. Indrisari ended her remarks.
Meanwhile, Mr. Lawang Kidul Sub-District Head, represented by Mr. Ispahami, SKM.MM in his speech said: Thank you for PT.BAS' assistance to residents in Keban Agung Village with the construction of a Village office fence and free medical treatment.
He continued, "Whether or not the performance of the Village government will certainly greatly affect the good or bad performance and service to the community, by maintaining the fence and the village office building so that it can be used for a long time. Because building a new fence is easier than maintaining and maintain buildings and fences so that they can continue to be in good condition, "he said.
After the inauguration of the village office fence, free health services were carried out for the residents of the Keban Agung village. Hopefully this activity will support the health around the PT.BAS mining area. (Akwam & PT.BAS Public Relations ER Team)